May 20, 2015
My office
Dear Reva,
Happy Birthday!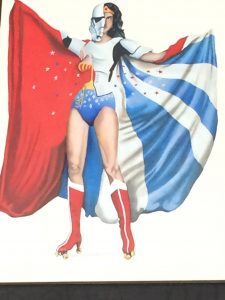 I'm so sorry to be a day late with my letter this week, though it does give me the opportunity to wish you well on your big 3-9. I hope you got everything you wanted, including some time to reflect on your plans for the year ahead. The year before I turned 40 was a completely transformative one for me. I wouldn't wish everyone the same experience – transformation is not for the faint of heart – but I know from your letters that you are ready for a new adventure. I'm looking forward to coming along on it.
Given that your last two letters have been about parenting, I think you will understand the reason for my tardiness: I took the boys to NYC for a long weekend, my first trip with them alone. It was a good moment to reflect on my own parenting style, and some of the questions that you ask about how and if mothering comes 'naturally' to women.
I'm not a fan of boxes and categories (I nearly listed 'cages' here, which tells you something about my approach to boxes and categories), and this is particularly true of mothering. I also get suspicious when the word 'natural' is applied to women as mothers. Good, natural mothers, it seems, opt willingly for whatever choice is the hardest, most painful and most self-denying; bad, unnatural mothers are those who opt on Day One for the epidural and continue, at every opportunity, to choose the path that preserves their sanity and a sense of themselves as distinct from their offspring. Selfish, really.
Of course I have times when I feel like a fraud as a mother (who doesn't?) but for the most part, imposter syndrome takes hold when I am forced into a model of mothering that isn't, well, natural for me.
For example, here is my personal word association for maternal failure: holiday meals. Getting my children dressed up against their will for a 'festive' meal and watching them struggle to use cutlery and eat food they dislike, while other family members watch in judgment is a special kind of torture for me. I am also bad at the following:
Playing, or feigning interest in, video games
Doing activities that involve being cold
Sports
Discipline
Sitting around and doing nothing
Going to the playground (see above)
But I am very good at:
Reading and instilling a love of words
Cuddles
Listening to what is said, and what is not
Adventures and special events
Creative solutions to any problem
And I find that when I parent with an emphasis on my strengths, I feel quite comfortable in the role; whereas, when I try to be a different kind of parent, a more authoritarian one, or a sporty one, or a chilled out one, for example, I feel like an imposter.
I was thinking of the event we did together the other night, where we got into a conversation about what we do for fun. One of the women in the audience said that she didn't do much for fun, other than hang out with her children, and I said, "I don't think parenting is fun." It's true. There are many things that I like to do for fun, and parenting isn't on the list. Tennis is fun. Dinner out with friends is fun. Reading is fun. Talking about books and writing with other writers is fun. I could go on. I take delight in many things.
Parenting is work. Of course it is. Parenting is an ongoing act of love. And ongoing acts of love (as opposed to falling in love which takes little thought or effort, or even sense), are, as we know but don't like to admit, work. Rewarding work. Meaningful work. Even joyous work. But not effortless. Not without struggle. Not without worry and frustration. Not 'natural'.
And this is all good news, my Reva, because if we let go of the idea that there is one successful way to parent, we'll be freer to find a way that works for us, either inside or outside the box.
Yours,
Kate
Read Reva's last letter here: http://www.revaseth.com/penpalproject/real-mothers-day/
Read the Pen Pal archive here: https://www.facebook.com/ourpenpalproject?ref=hl