July 14, 2015
My office
Dear Reva,
You made my week by asking me for a midlife crisis reading list. It has been a pure pleasure to spend time thinking about the books that have helped me navigate this life stage.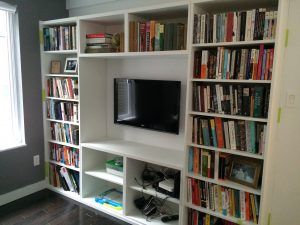 As an aside, I would add that part of the challenge of these years seems to be the struggle to chart your course while being battered by external storms that rise unexpectedly. Take my tennis group, for example. I play tennis with a small, much-loved group of friends every week. All of us, of course, are grappling in various ways with professional ambitions, and often we talk about our work and the manifold frustrations inherent in it. But over the past six months, personal events have overshadowed professional concerns: my husband left me, R's mother had a stroke, M's sister fell into a coma from a brain tumour, and K had to stop playing for a few months to do intensive physio on her shoulder.
All of that to say that while planning is essential for all kinds of professional and personal achievement, my own midlife experience has forced me to grapple with the problem of how to carry on when life refuses to conform to any plan you've ever made. At this stage, my midlife journey is primarily an interior one, about letting go of perfectionism, and accepting impermanence, and being in the here and now, and looking within for support and validation, and knowing that the only thing I actually control is my own behaviour. All of which is, for me, really, really hard.
There are a few approaches to reading as a cure, or bibliotherapy as some call it. One approach is to read fiction about people going through their own midlife crises, which will either cause you to nod in recognition, or feel better about your life in comparison to the lives on the page. Some books in this vein that I deeply love include Jennifer Egan's A Visit From The Goon Squad, Nick Hornby's High Fidelity, Lionel Shriver's The Post-Birthday World, Jonathan Franzen's The Corrections and Jonathan Tropper's This Is Where I Leave You.
Another approach is to read memoirs by people who have soldiered through midlife and emerged as stronger, wiser and more authentic humans. I spend an entire week on vacation last year reading nothing but memoirs by funny women. It did more good than the sun and margaritas. Here I recommend Nora Ephron's I Feel Bad About My Neck (and also Heartburn, which is supposed to be fiction but isn't), Tina Fey's Bossypants, Elizabeth Gilbert's Eat, Pray, Love, and Amy Poehler's Yes, Please.
And lastly, there is the nakedly self-help category. I was never a big fan of self-help books, but have read more of them in the past year than ever before. I still wouldn't describe myself as a self-help convert, but I have huge admiration for Pema Chodron and Brené Brown. In particular, Chodron's The Places That Scare You and When Things Fall Apart, and Brown's Daring Greatly have prompted me to have some useful and enlightening conversations with myself.  And I love Brown's famous TED talk, which describes her own midlife crisis.
While you are loading up on reading material, don't forget that every midlife crisis needs a playlist. I – surprise! – favour power songs by women. Try Sara Bareilles' Brave, Natasha Bedingfield's Unwritten, Alanis Morissette's You Learn, Katy Perry's Roar and Rachel Platten's Fight Song for starters. With the right soundtrack, anything is possible.
Yours,
Kate
Follow the Pen Pal Project here.
Read Reva's last letter here.