December 15, 2015
My desk, 7 a.m.
Dear Reva,
I'm getting an early start this morning, and because it is so dark outside, and because I'm tired, I am completely disoriented. I have to keep reminding myself that I have already slept, had breakfast, packed one child (the one who isn't sick) off to school and settled into my work day. The fact that I have to do this – remind myself of something so simple and obvious – is one of many examples in everyday life of how much of our behaviour is patterned and based on familiar external cues.
And this, in turn, is one of the answers to your question last week about why midlife changes are perceived as a crisis. I like this question, and have thought about it a lot in my own context. I used to describe my shift into a writing career as the result of a midlife crisis, partly because it got a laugh from the audience, and partly because I thought of it that way myself. But I've stopped doing that. I've decided that it is too reductive, dismissive, and even pejorative a phrase to describe what has been, in fact, a period of transformative growth and creative flourishing.
Having said all of that, change scares us at a fundamental level. We don't think that we are good at it. We cling to the (misguided) idea that people don't really change, and it comforts us, giving us a sense of control and stability. And, of course, change invites failure, which we fear most of all.
Small changes can throw us off for months or even years. Think about how long it takes to settle into a new house, for example, or a new route to work. Long after we should have rewired our brains, we still find ourselves looking for the forks in the wrong drawer, or getting off at the wrong subway stop. And it makes us tired, because every time we have to substitute a real decision, one that requires our attention and consideration instead of allowing us to operate on autopilot, it takes energy.
But here's the good news. According to Charles Duhigg, author of The Power of Habit: Why We Do What We Do in Life and Business, "Routine basically gives us the mental freedom to think about what's actually important…Almost every single species that has survived has the ability to take routines and make them automatic. That way you have cognitive power to invent spears and fire and video games."
In other words, all of those routines are liberating space in our brains that could and should be used to contemplate change.
My own view is that we are far too wedded to the notion that change is threatening, and that it prevents many of us from reaching our full potential. There is no question that change is difficult (we will all spend a lot of time looking for forks and getting off at the wrong stop, no matter how adaptive we are), but it is also extraordinarily energizing.
This is not to say that I wake up every day and think, "Excellent! Another day of adapting to unfamiliar experiences!" I find change tiring too, even though I have come to appreciate and even seek it. But the rewards of change are as large as your own imagination.
This week, the first copy of the US edition of The Hole in the Middle rolled off the presses and arrived in the mail. Here is a picture of me, right after I opened the envelope. Do you see the same thing that I see? Wonder, astonishment, joy, and more than a little disbelief?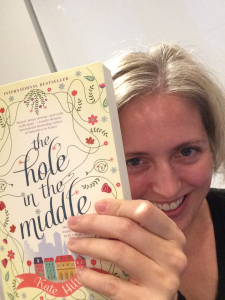 That's what change looks like.
Love,
Kate
Follow the Pen Pal Project here.