Rib Night and Other Disappointments
by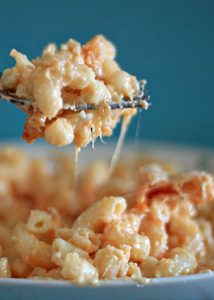 Fear not, gentle readers.  I haven't given up on family dinner, at least not yet.  The journey continues.  This week, however, my blogging energies were consumed by the start of before- and after-school activities, my husband's eye surgery and a canine houseguest who used my entire house as a toilet.  Not cool.
I started strong, with back-to-back efforts: Rib Night, and the long-awaited Mac & Cheese Night.
My husband was so excited about Rib Night that he left work early to smoke the ribs on the Green Egg.  The results were incredible.  I have to say, if you have a passion for barbecue and some discretionary income burning a hole in your pocket, you might want to consider a Green Egg.  It really is worth the effort.   Three out of four members of my family agree.  The other one wept copiously, ate three slices of cucumber and retired to his room early.
Having worked myself (and my entire family) up for mac & cheese, I was invested in its success.  I decided to buy a little insurance by adding bacon.  I even purchased really thick, expensive bacon from the butcher, and used an amazing recipe from the Kitchen Treaty website: http://www.
.com/the-best-macaroni-cheese-ever/
Ingredients
8 oz. (1/2 pound or about 1¾ cups) macaroni or other medium tubular pasta (like penne or conchiglie)*
3 tablespoons butter
¼ cup flour
½ teaspoon salt
½ teaspoon dry mustard
¼ teaspoon black pepper
⅛ teaspoon smoked paprika plus more for sprinkling on top
2½ cups 2% milk
3 cups grated medium cheddar cheese*
Instructions
Boil the pasta until al dente, according to package directions. Drain and rinse with cool water to stop the cooking, and return to the pan you boiled it in. Set aside. (Mix in a little butter to keep the noodles from sticking if it's going to be awhile before you make the sauce)
Preheat the oven to 375 degrees.
Over medium heat, melt the butter.
Add the flour, salt, dry mustard, pepper, and ⅛ teaspoon smoked paprika. Stir constantly over medium heat for about three minutes.
Stir in the milk.
Keeping on medium heat, whisk constantly for about 10 minutes, until the sauce thickens.
Remove from heat, and stir in 2 cups of the cheese, stirring until melted.
Pour the cheese sauce over the noodles and toss gently until all noodles are covered.
Add half the noodles to a two quart casserole dish.
Sprinkle on half the cheese.
Add the rest of the noodles.
Sprinkle on the rest of the cheese, and dust lightly with the smoked paprika.
Bake for about 25-30 minutes, until it starts getting a slightly dry and a tiny bit brown on top. Serve, topping individual servings with cooked, chopped bacon if desired.
My husband and I both agree that this is a fantastic mac & cheese recipe.  It's simple, hearty and not at all dry.  The smoked paprika adds just the right amount of interest.  Our children managed two whole mouthfuls (each), before declaring it 'slimy'.  They also agreed that thick bacon is even better than everyday bacon. (Incidentally, did you know that there is a website called 'Bacon Today: Daily News on the World of Sweet, Sweet Bacon'? Check it out at www.bacontoday.com.  The internet is one crazy place.)
We finished the week with pork tenderloin.  Or, I should say, I finished the week with pork tenderloin.  It was a very hot day, and after soccer practice in the blazing sun, the slightly more adventurous of my eaters was a basket case.  It was the one thing too many, for all concerned.  Subs were purchased and joyously consumed.  And then I had a quiet dinner by myself.  Paired with stir-fried vegetables, couscous and a crisp glass of white, the tenderloin was delicious.