Operation Family Dinner: The First Forkful
by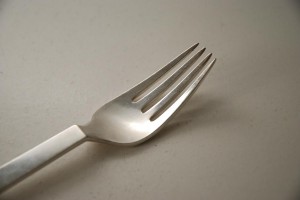 Anyone who thinks that the year starts in January doesn't have school-age children.  The rest of us understand that September is the month of fresh starts, clean slates and ambitious resolutions.  And this year, I'm tackling family dinner.
My kids are the worst eaters.  Really.  I know people say that, and then it turns out they mean that their kids don't eat raw sushi, only vegetarian rolls and shrimp.  That's not what I mean.  I mean that in my house, bacon is a food group.  I mean that my kids don't eat pasta.  I mean that they only eat pepperoni pizza from one delivery joint.  It's serious.  Not to mention shameful for an avowed foodie and reasonably serious home cook like me.
So this September, after years of resistance, we are embracing family dinner.  We commenced a negotiation with our children (aged 10 and 6) to arrive at a menu for Week 1.  As a starting point, I pulled out Lucinda Scala Quinn's cookbook, Mad Hungry.  "I will cook anything in this book," I declared.
We started with penne and meatballs.  The boys helped me make the meatballs, which were, it must be said, magnificent looking.  Does it matter that the boys looked as though they had been stuck with cattle prods as they choked down the requisite number of bites (two meatballs for one; five pieces of penne for the other)?  Does it matter that we resorted to bribery ("I'll give you a dollar if you eat five more pieces." "No, thanks. Not worth it.")?
No.  What matters is that they both ate a plate of lettuce to avoid eating any more penne and meatballs.  Lettuce!  That's a win.
Stay tuned.  Macaroni and cheese is coming up next.