Inside my brain at 2 a.m.
by
February 16, 2016
Dear Reva,
I'm sitting in a waiting room and composing this letter on my phone while simultaneously texting with you! A Pen Pal Project first. (We are trying, via text, to arrange a time to see each other, or at least to speak on the phone. We have been trying, and failing, to do this for several weeks now. It reminds me why we decided to write letters in the first place, and it makes me glad that we did.)
So, I've had a wild few weeks, at least professionally speaking. The Hole in the Middle came out in the US at the beginning of January, and the publicity has occupied a large portion of my addled brain. The rest of it has been dedicated to completing the initial edits on my second book and submitting them to both Canada and the US (I have different publishers in the two countries). And then, because I'm incorrigible when it comes to overloading my plate, I'm involved in a few volunteer projects that are taking more time than expected. All of which is to say that you can take the girl out of the full time job, and she will still work full time (although she will earn less money, which we knew). You may have written some essays on that topic, come to think of it.
Some nice news here is that I've signed a two-book contract for Book 2 (now written) and Book 3 (only barely imagined). I'm thrilled, not at least because it makes me feel like a REAL writer. I wonder if we ever escape imposter syndrome? Here is a picture of me signing the contract. Can you see the hint of disbelief in my expression?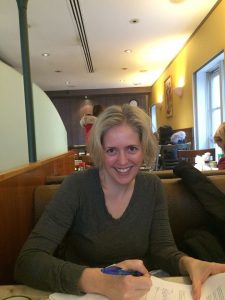 A funny story for you: I was up half the night last night in a pool of sweat, absolutely convinced that I was hitting early menopause and having my first serious hot flash. As I lay awake, I thought of every possible reason in support of my hypothesis. The women in my family hit menopause early. Now in my mid-forties, I see my body changing in subtle and not-so-subtle ways. Hadn't I read something about stress triggering menopause? And hadn't I been through two of the three most stressful life events in the past eighteen months (divorce and moving)?
It was obvious. I tossed and turned, fretting about osteoporosis and sex appeal and general decline. And then I finally got out of bed, hours later, to discover that my son had turned up the heat in the late evening and the system hadn't reset as it normally does – and that my two boys, who are obviously not menopausal, had been sweltering as well.
And from this I learned that I am more than a little terrified of menopause. And more than capable of leaping to dire conclusions in the middle of the night. But again, we knew that.
So many things to discuss! I hope we can schedule that chat soon.
Lots of love,
Kate