Mom Blog: The '80s Edition
by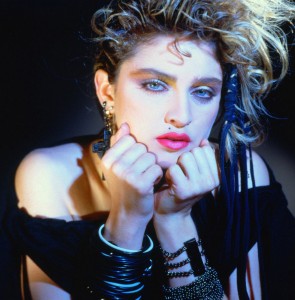 I was already annoyed when I pulled into the driveway in the Plymouth Voyager, having returned empty-handed from the video store.  Friday afternoon at 4 p.m., and all the copies of Risky Business and The Bounty were already gone, leaving me with the choice of renting Meatballs II or The Gods Must Be Crazy for the third time. So much for my plan of vegging out on the couch with Brian and my two fave fantasy husbands, Mel Gibson and Tom Cruise.
When I got inside, I found Amy and Stephanie watching Y & R.  I switched the channel to Muppet Babies and told them to clean up their toys or I'd throw them in the garbage.  I went into the kitchen and discovered that Michelle hadn't cut up the vegetables for the stir-fry after walking the other girls home from school. I felt my temperature rising, so I mixed myself some Crystal Light and vowed to be more like Clair Huxtable.
I found Michelle lying on her bed, talking on the phone.  I nearly tripped over the cord as I walked over, removed the receiver from her ear and hung it up.  She was furious.
"What is your damage?!!" she yelled.
"Don't you take that tone with me, young lady," I said.  "My house, my rules.  You don't like them, you can find somewhere else to live."
"As if," she said.  "If I weren't around, you'd have to quit aerobics and pick up Amy and Stephanie yourself."
I reflected for a moment on my neighbor Linda's advice to think of myself as a friend to my children, but decided instead to take away Michelle's phone privileges.  I left her sulking in her room, playing Like A Virgin over and over again on her ghetto blaster.
I admit that I may have been a little edgy already, on account of being on the Scarsdale Diet (again).  All that grapefruit was obviously getting on my nerves.  So I did Jane Fonda's 20-minute workout in the rec room to calm down, and then I went to the bedroom to fix myself up.
I threw my legwarmers, my purple spandex leggings and my oversize T onto the Laura Ashley bedspread, and exchanged them for some black stirrup pants, a neon pink blazer with great shoulder pads and some chunky clip-on earrings.  Then I took out my banana clip, shook out my perm and applied some bright pink lipstick.  Linda had her colors done and she says that I shouldn't wear pink because I'm an Autumn, but who wants to wear brown and goldenrod for the rest of her life?
I went down to the kitchen and got out the wok.  I love all of the international flavors you can cook with now!  Just dice up some chicken, throw in some red peppers and bean sprouts, and pour half a bottle of soy sauce over everything, and you have real Chinese cuisine.  Or is it Japanese?  I can never remember.
While I cooked, I poured myself a glass of California Chardonnay, added some ice cubes, and thought about Michelle.  What wouldn't I give to go back to the days when our biggest parenting problem was finding a Cabbage Patch Doll for Christmas! She's living in the best time ever in history, with nothing but progress as far as the eye can see, but does she appreciate it?  No: it's all acid rain and apartheid and black eyeliner.  I remember fighting with my brothers over who would get the maraschino cherry in the fruit cocktail, and now?  Red peppers from South America in the middle of winter.  Totally amazing.
I blame Madonna.  If I had five minutes alone with her, I'd tell her what kind of example I think she's setting for young girls. Like a virgin, my A-S-S, pardon my French.  Thank goodness her 15 minutes of fame are just about up.