How About We All Stop Dumping on Genre Fiction?
by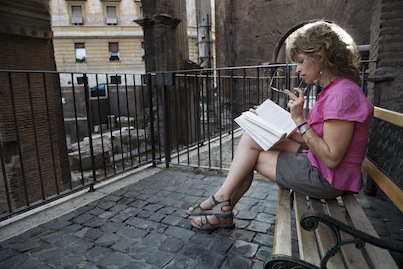 I read a lot.  This year, I'll read at least 150 books, and I'll enjoy most of them.  I'll read literary fiction, certainly. I'm in a book club that reads novels by Booker prize winners and those shortlisted for the prize.  In addition, I'll try to sample a good selection of critic's choices from the New York Times and various other 'best-of' lists.
And I'll read a ton of genre fiction.  Mostly, if you ask what I'm reading, I'll tell you about the literary fiction.  I won't tell you about the raft of paranormal romances, young adult, police procedurals and adult contemporary titles on my e-reader.  That's because you'll judge me.  Admit it.
As for you, you'll admit to checking out Twilight and Fifty Shades of Grey, just to keep abreast of popular culture.  You'll tell everyone who asks that the writing in them is terrible and you can't understand why they took the publishing world by storm.  Secretly, though, you'll stay up late devouring every page, just like the rest of us.
I get it.  I'm fairly impervious to the judgments of others on most things, but not on matters of literary taste.  But since I started writing myself, I've started to appreciate the unique talents of genre writers.  So let me make this argument in defense of genre fiction and the fine writers who produce it.  Literary fiction is designed to make us think.  Genre fiction is designed to make us feel.  There are excellent writers in both categories, and there is nothing wrong with enjoying both.
Let me make an analogy to food, which is the only art form, other than writing, where I can boast any personal talent.  At one of America's great restaurants, I once ate a tiny cube of distilled cucumber gelatin that made me view the delicate flavor of the vegetable in an entirely new way.  It was an amazing culinary experience.  Great works of literary fiction do something similar.  They make us see our familiar world in a new and fascinating light.
But I don't want to eat cucumber gelatin every day.  Sometimes, I'm in the mood for a gutsy lasagna or a roast chicken or a gooey chocolate chip cookie.  These foods are predictable but never disappointing.  They nourish and comfort without surprising us.  And this is what great genre fiction does.  We don't have to worry that the boy will get the girl, or that the murderer will be apprehended or that the sex will be hot.  We know and that's part of what we enjoy.
So go ahead.  Devour fiction in all its many forms.  I won't judge you.